We need more midwives to support more families
#midwivesforall17
Families of all kinds need midwives. But not all families have access to a midwife who looks like them or comes from their community. That's why Elephant Circle, The Midwives Alliance, Southern Birth Justice Network, and Forward Together have come together for this digital campaign. Starting on International Day of the Midwife (May 5th) and going through Mother's Day (May 14th) we are asking people to send a card to a midwifery leader reminding them that we need midwives for all families. If you're here, someone in your community is asking you to take part because midwifery for ALL FAMILIES matters.
Are you a family, midwife, or organizational rep sent here to take action? See below for more action steps!
Hug a midwife.

Bake something for your midwife.

Give a gift to your midwife, including the gift or your services or time.

Send a digital Mamas Day card to a midwife.

Support a midwifery organization by becoming an affiliate member.

Get involved in an organization doing birth justice work centering people of color, queer/trans folks (here's a growing list).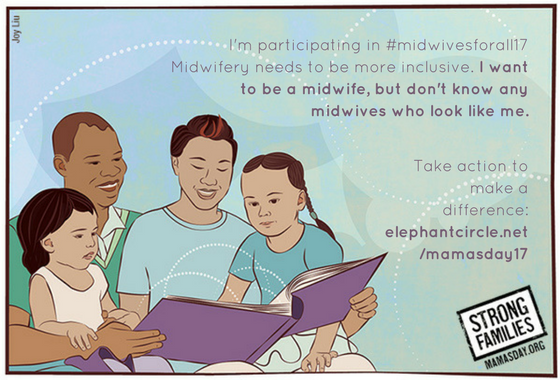 Actions for Midwives/Practices:
Set up a fund at your birth center or practice for low-income families (clients with the means can donate).

Support a student midwife of color in your community by giving them a gas card to help get to births.

Do an inclusiveness check of your intake forms to make sure they are inclusive of race, gender identity and sexuality.

Make sure you take care of yourself and prioritize your health.

Cultivate learning opportunities for student midwives from diverse communities.
Actions for Organizations/Schools:
Develop a non-discrimination policy that addresses race, gender, age, sexuality and class.

Make a statement on social media about the importance of access and equity in midwifery.

Ensure people of color are represented in positions of leadership. Step back from leadership to make way for new leaders.

Require a Birth Justice 101 or other cultural competency CEU approved training as part of membership.

Make sure all midwives have access to peer review where they can review cases and learn from midwives that are both similar to and different from themselves.

Create programs informed by the Black Mamas Matter toolkit.
You can also support Forward Together's effort to send love to immigrant and Muslim families this year, by visiting: https://mamasday.org/act
And if you liked this, don't forget to donate to support our work!